View Cart

The 2016 season was yet another very successful year of hunting. My hunting areas seem to just get better and better with the management plan I have in place.
The years to come are looking even better with some exception young stags sighted which will be monsters in the next couple of years. Also several very good shootable stags which should be even bigger next year as we never take to many stags from one area.
As you can see I have a new dog Ollie a 1 year old gsp, He is doing very well finding our stags making tracking of animals a breeze.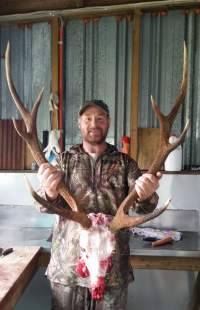 This was the big boy for year scored 211 green
He was at least a 6 year old stag so has left behind some great genetics.